dree's first food blog entry...
so i woke up at about 1pm this afternoon after the heavy drinking at the Leo Party at Asia Cafe. I was pretty hammered.. didn't feel well so i drove home and went to bed at about 3am.. so i woke up, had a cigarette then headed downstairs to get some liquid into my system, and what did i find!! 2 slabs of Australian topside on the kitchen counter.. HMmmm!!! such luck!! just the thing i need to refuel myself for the day :D
opened mom's cookbook and read up on how to roast beef in the oven. couldn't find any proper instruction so i decided to wing it. Only marinated the beef with salt and pepper and chucked in some honey for some sweetness. preheated the oven with a pie tin in it (yes i have 2 proper ovens at home...). after the pie tin was quite warm.. i melted some butter in it. (this is done so that your beef won't stick to the pan ok!) i cut some slits in the beef so that i could have more 'juice' which i'll be using to make the sauce later on :D.. (saw it in
shaolintiger's
blog so i copy abit lar...)
i really didn't know what temperature to heat the ove too.. so i i tried 175 degrees.. but i think i should go abt higher nexttime .. i think i did abt 10 minutes on each side.. but i can't remember coz i took it out and put it back in .. a few times... anyway the beef was about medium rare ..but it was kinda tough.. and i don't really have proper steak knives to cut it at home.. lol.. so i decided to cut it into slices.. this is how it looks.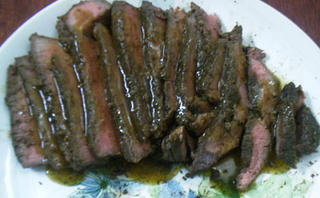 looks almost like stir-fry beef. haha .. forgive me its my first time roasting beef. the sauce i basically used whatever that was at the bottom of the pie tin.. put in a pot of water.. and well i did it to taste slowly... added some butter to make it richer... some chicken stock (cudn't find any beef stock in the fridge..) thickened with some flour.
my brother made some mash potatoes.. and coleslaw ( initially i wanted to make baked potatoes ..but he'd already chucked the potatoes into a pot to boil 'em) and some stir fry brocoly and long beans...
This is how everything looked after..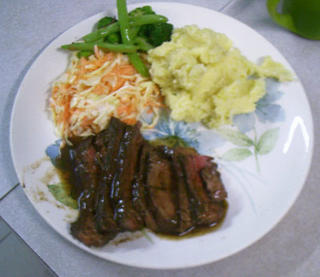 LOL forgive me for the poor photography.. but hey at least the meal was good.. and good thing i sliced the beef, because ended up.. even my parents wanted to eat.
yummy.. now i'm all charged up for today...wooot!